Fundatie Collection

The Fundatie Collection is an accumulation of over 11,000 works of art from several separate collections. Read more about the Fundatie Collection.

Dirk Hannema

Dirk Hannema, former director of Museum Boymans, brought the large collection of visual arts together in the 20th century.

Read more

A selection of the collection

Explore some of our collection on this page. Search by maker, technique, date of manufacture or enter a search term of your own.
Terug naar collectie
Jan Sluijters
Bijvoegsel van de Nieuwe Amsterdammer nummer 70 van 29 april 1916. Slachterij Der HochKultur Wilhelm: Alweer een nota ? Wilson- Nee nou een kwitantie, en straks als je niet oppast, de sterke arm !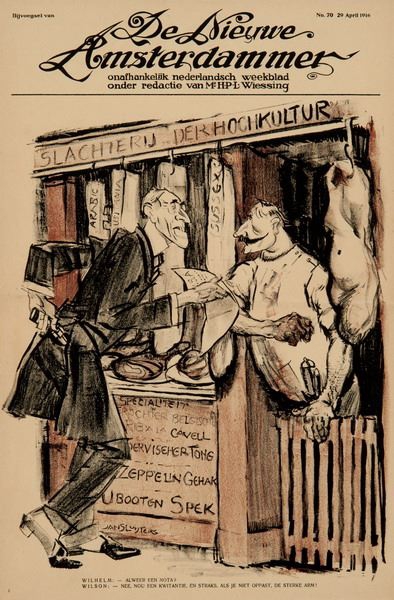 Bijvoegsel van de Nieuwe Amsterdammer nummer 70 van 29 april 1916. Slachterij Der HochKultur Wilhelm: Alweer een nota ? Wilson- Nee nou een kwitantie, en straks als je niet oppast, de sterke arm !

Jan Sluijters

1916-04-29

litho hoogte: 47.5 cm
litho breedte: 32.0 cm
lijst hoogte: 64.0 cm
lijst breedte: 47.0 cm
lijst diepte: 2.5 cm

lithografie op papier

Museum de Fundatie (verworven met steun van de BankGiro Loterij), Zwolle en Heino/Wijhe

0000009659