Museum de Fundatie has added a true gem of contemporary art to its collection with the purchase of Gewitterfront (Thunderstorm Front) by German artist Neo Rauch (Leipzig 1960). Neo Rauch is generally acknowledged as one of art's current leading practitioners. Gewitterfront, a recent work painted in 2016, forms part of the 'Behold the man' international portrait exhibition which runs in De Fundatie Zwolle until the beginning of next year. The purchase was made possible by financial support from BankGiro Loterij, the Rembrandt Association (partly thanks to their Titus Fund), the Mondrian Fund and VSBfonds.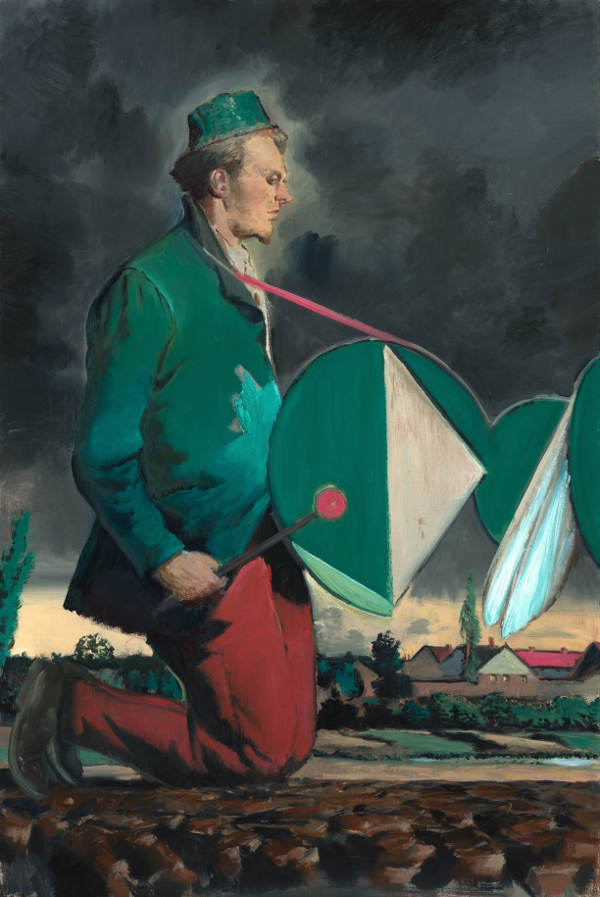 Neo Rauch (Leipzig 1960), Gewitterfront, 2016, oil on canvas, 150 x 100 cm. Museum de Fundatie, Zwolle and Heino/Wijhe Collection. Acquired with financial support from BankGiro Loterij, the Rembrandt Association (partly thanks to their Titus Fund), the Mondrian Fund and VSBfonds.© Neo Rauch c/o Pictoright Amsterdam 2016 (Photo: Uwe Walter, Berlin).

As an exponent of the Neue Leipziger Schule, Neo Rauch works in a highly individual style, mixing the traditional with the modern in a virtuoso manner. For the viewer, Rauch conjures up the world as a theatre, complete with imagined backdrops against which figures inhabit roles in narratives which inextricably couple history and current times. He utilises his large collage-like compositions to articulate highly personal reflections on the complexity of life in 20th- and 21st-century society. His work is represented in a number of significant international modern art collections, including the Hamburger Bahnhof-Museum für Gegenwart in Berlin, Pinakothek der Moderne in Munich, the Museum of Contemporary Art in Los Angeles and the Metropolitan Museum of Art in New York. Neo Rauch's work is also much sought-after by private collectors. The actor Brad Pitt purchased one of his paintings in 2009.
Gewitterfront is about our world, the now! It lays bare the doubt, the knee buckling exhaustion and the encroaching danger, but also the will to struggle to your feet and carry on. It is a painting about humility, atonement and perseverance. With Gewitterfront, Rauch appears to juxtapose his connection to (Eastern) Germany, his native land and source of inspiration, with his doubts about (European) identity. The canvas with its kneeling drummer in a 19th-century uniform refers to both Günter Grass's 'Die Blechtrommel' and Willy Brandt's iconic genuflection in Warsaw in 1970, as a symbolic gesture of penance for the Nazi persecution of the Jews. In this sense, Gewitterfront delivers a complex and associative image of our history and casts a critical eye on the future.
The significance of Neo Rauch's paintings is also generally recognised throughout the Netherlands. He won the prestigious Vincent van Gogh Biennial Award for Contemporary Art in Europe in 2002. Both the Bonnefantenmuseum in Maastricht and the Gemeentemuseum in The Hague possess an early work on paper. An oil on paper work from 2005 can also be found in the collection of Museum Boijmans Van Beuningen in Rotterdam, whilst the Stedelijk Museum Amsterdam has an oil on canvas painting from 2005, as well as a work in an artists' book. This makes Gewitterfront in De Fundatie the second oil painting by Neo Rausch in a public art collection in the Netherlands, and the only one showing his recent development.
Gewitterfront closely connects with the range of internationally prestigious artworks in the collection of museum founder Dirk Hannema (1895-1984). These works are often solitary pieces in the De Fundatie collection, but taken together form a string of pearls embracing centuries of art history. They can be seen in a wide variety of contexts in the museum's exhibition programme. In recent years, De Fundatie has been presented as a home for German art. Apart from holding works by acclaimed German artists such as Franz Marc and Max Pechstein, the chief reason for this is that De Fundatie continues to manage Paul Citroen's artistic legacy, owned by the Province of Overijssel. Born and raised in Berlin, Citroen was as an artist and art dealer closely linked to the Berlin-Dadaists and Bauhaus at the beginning of the previous century. The museum recently held exhibitions about the Weimar Republic and the German expressionist paintings of Die Brücke and Der Blaue Reiter, as well as monographic presentations by George Grosz, John Heartfield, Felix Nussbaum, Ellen Auerbach and Barbara Klemm. The museum is currently working on exhibitions featuring Werner Tübke, Wolfgang Mattheuer, Fritz Klemm, Anselm Kiefer and Neo Rauch.
Gewitterfront was acquired for 400,000 euros.
More information regarding this purchase within the context of the 'Dutch public art collection' can be found on the Rembrandt Association's website.